LEDinside: Three High-End TV Market Trends
HDR for the color gamut specification section has been normal NTSC 72% pulled up to DCI P3 90% (about NTSC 80 ~ 85%), so 2017 NTSC <90% of the specifications, the use of blue chip + RG phosphor, blue and green LEDs + KSF phosphor compared to last year's 2016 growth trend of about 30%. Future WCG requirements to NTSC 100% or more, the existing phosphor cost performance ratio is not higher than expected, so need to be converted into QD (Quantum Dot) material, so it will on the LED blue chip without phosphor. It's bound to affect the phosphor usage volume. Current QD solution for WCG requirement about NTSC 100% is QDEF in backlight market, and about 1% in TV market. Panel suppliers actively develop the QD (Quantum Dot) material in the open cell, leaded by the Korean supplier. In the future, the QD will be popular in the WCG market. ...More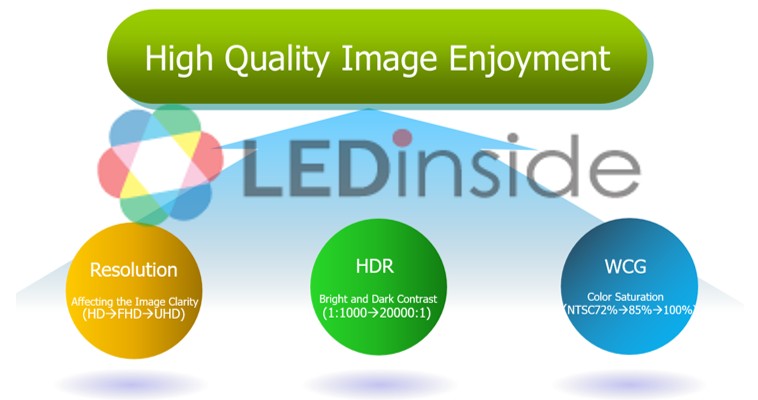 LEDinside: 2017 TV & Automotive Panel Market Analysis
Automotive panel has the characteristic of customizing display mode and color, and it provides more diversified features and applications in recent years through integrating car camera and active scanning infrared sensor.
Currently, the transformation to panel has been achieved in the dashboard, CID and entertainment display, which provide various functions like warnings, displaying information; moreover, side view mirror and rear view mirror have been integrated with the lens. ...More
LEDinside: Commercial Projector Laser Lighting Source will Take Over 30% Market Share in 2020
According to the latest '2017 IT Product and Backlight Market Trend- 1Q17 Mobile Flash and Commercial Projector Market Trend' by LEDinside, Previously, the projector market's annual shipment volume was relatively stable at around 7 million to 8 million projectors. TV sizes have continued to increase as LCD TV costs declined. Currently, 80-inch TVs are being applied in commercial and education institutes, additionally the touch control panel solution has led to the rise of the emerging 80-inch touch panels in China. Commercial projector shipment volumes have gradually decreased, and is projected to drop to merely 6 million projectors in 2020.
Commercial projectors are mainly used in indoor conference rooms, schools, and other spaces in education institutes. In this application sector, the projector's lumen flux is more commonly around 2,000 lm to 3,000 lm, while ranked second is the 3,000 lm to 4,000 lm range. Advancements in light source technology and the positive correlation between brightness and image quality resulted in steady annual uptick in brightness requirements. It is projected by 2020, the 3,000 lm and above market share will reach 43%. ...More
LEDinside Silver+ Member Report

Lighting Market Trend
Global LED Lighting Market Trend- EU / US / JP / CN / VN - High Bay Light, Panel Light, Plant Growth Lighting, Stadium Light, Architectural, Vietnam Lighting Market, Market Outlook
Display and Projection Market Trend - TV, Mobile, HMD- AR v.s. VR, HUD, OLED / QLED / μLED

1Q

2Q

3Q

4Q

Projection (HMD- AR v.s. VR)

Current TV Trend and Advanced Technology (OLED, QLED, μLED)

Projection (HUD- Automotive)

2019 Outlook
- TV Mobile Branding Shipment
- Backlight LED Market Scale
- Product Specification and Price
- Supply Chain
D. LED Backlight Market Trend And Analysis
E. LED Price Trend And Analysis

October: Backlight market value and market outlook for the next year

LED Price Trend And Analysis in TV / Smart Phone / Tablet PC / Notebook / Monitor Application Market

- LED Price In Mobile Market
- LED Price In Notebook / Tablet PC Market
- LED Price in Monitor Market
- LED Price In TV Market
For further information about the report, please contact:

LEDinside, another subsidiary of TrendForce, offers research information on LED (light-emitting diode). Moreover, LEDinside also covers the technology development, market trend, and financial information of the LED industry on a global and regional basis. For more about LEDinside, please visit www.ledinside.com